Demo Video for
J's Full Service Roofing
Based on your answers to the questionaire, we highly recommend...

The Golden Bundle
$2,500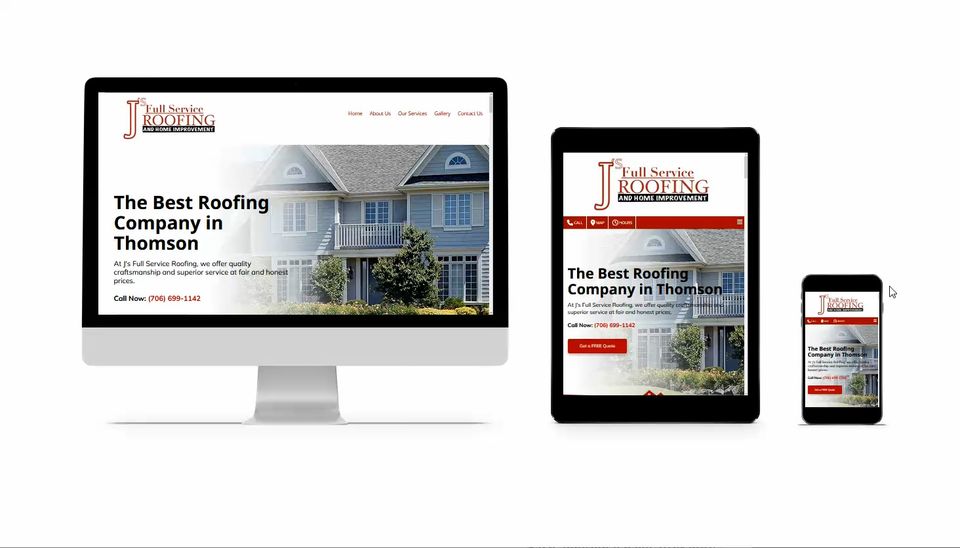 + $49 Monthly
(includes hosting & unlimited updates)
OR+ $79 Monthly
(includes hosting, unlimited updates, & Reputation Management)
OR$0 Extra Monthly Service
For Existing 
Hollerin' Dollar
Premium Clients
(Up to 10 page website).
Includes:  5 Core Pages + 5 Bonus City-Targeted Landing Pages (these are in addition to the home page which targets the city you are based out of)Also Includes
 Local SEO Setup to include listings on dozens of major search engines and hundreds of listing sites to ensure you can be found online by your new clients and rank higher on Google and other search engines.
Each additional page after initial 10 page build will be $100 once for build.
Additional Features Included with The Golden Bundle

✓

= Included

✗

= Excluded
✓

 Professional Site Design


✓

 SSL Security


✓

 Google Maps Integration


✓

 Social Media "Deep Links"
(ex. FB link opens in FB mobile app when installed instead of browser)


✓

 On-Site SEO


✓

 Local SEO Setup


✗

 

Local SEO Monthly

(Learn More)
✓

 Cross Browser Testing


✓

 Connect Your Domain


✓

 Worry-Free Cloud Hosting


✓

 Desktop, Tablet & Mobile Optimization


✓

 We Make Updates for You


✓

 Free Augusta Hollerin' Dollar Listing with purchase of Reputation Management
✓

 Reliable Support


✓

 Site Login


✓

 Real-Time Traffic Stats Credentials


✓

 Make Your Own Updates


✓

 Accessibility Starter Kit Integration
(free limited version)
✓

 Google Cal Integration*


✓

 Unlimited Prof. Emails
(ex. email@yourbiz.com)*


✓

 Chat Box Integration*


✓

 Calendly Integration*


✓

 Blog Integration*
(powered by Blogger)


✗

Kingdom Web Pros Blogging Platform

(Learn More)*
*Optional
Learn About Reputation Management
Reputation Manager is a tool that makes it easy for you to manage your online reputation.
Online reviews are one of the most important factors when it comes to a successful local search strategy. Research identifies three key ways that a proactive online reputation management strategy can help local businesses: 
Improve Consumer Trust: Searchers feel more confident in a business's ability to deliver great service if they have a high review score and review quantity — this helps businesses to convert more inquiries into sales. According to BrightLocal research, 57% of consumers will only use businesses that have '4 or more' stars. 
Improve Click-through Rate: Google returns star ratings and review counts in their local search results. Searchers are more likely to click through to a business with a higher star rating and review count. Interestingly, a business gets 25% more clicks from Google's Local Pack by going from a 3-star rating to a 5-star rating. 
Improve Rankings: Having more positive reviews than your competitors helps make sure your business is returned for a local search. Currently, local search experts believe that reviews make up 16% of all local ranking signals. 
In the past, it's been difficult for online marketers to influence online reviews. After all, marketers don't typically have face-to-face interactions with customers, and rarely dictate processes around customer interactions — this is why Reputation Manager was built. The platform sends intelligent review invites to customers, providing the business with the best possible chance of receiving new online reviews that fit in the top review sites' guidelines.
It also gives detailed reporting and customer feedback for internal reporting, which helps you to develop your business over time.
There are three parts to Reputation Manager:1. Monitor Reviews
Keep track of your reviews across the review sites that matter to you in one easy-to-understand report. Monitor the growth in reviews, fluctuations in star ratings, and receive valuable new review alerts so you can respond to feedback rapidly.
Once your Google Business Profile (formerly known as Google My Business) and Facebook accounts are connected to your review monitoring report, we will check for new reviews every day. You'll also be able to respond to reviews on these sites directly from within this report.
2. Get Reviews
Grow and enhance your reputation by generating more reviews on the sites that are important for your business.
Create email or SMS campaigns to contact your customers and invite them to give feedback on your service (using a 0 - 10 NPS rating), then direct them to your chosen sites to submit reviews.
Every email and landing page can be customized with the logo, colors, and text to match any brand. We also have Link and Kiosk Modes available to capture reviews at the point of sale, and beyond.
3. Showcase Reviews
Beautifully display your customers' reviews from across the web on your own pages to deliver powerful social proof and increase conversion rates.
With Showcase Reviews, you can use Reputation Manager as an end-to-end solution for managing your reviews.
Reputation Management is included in the Golden Bundle or highter.  
Choose Your Package and Start Today!
$49 monthly includes hosting & unlimited updates.
 
$79 monthly includes hosting, unlimited updates,
free
Hollerin' Dollar
listing in CSRA, &
reputation management
We Finance!
If the only thing holding you back is the lump sum payment, let's talk!  We may be able to work with you.*
*Note:  We do not run a credit report.  We simply make a case by case judgement call based upon many variables.  We hope we can work with you!